Transit Coordination Plan 2022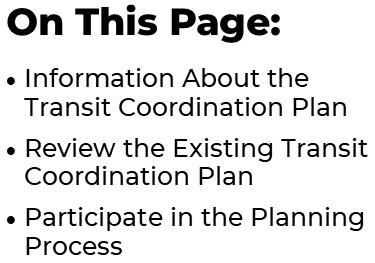 Ozarks Transportation Organization (OTO) plans for and works to address the mobility needs of seniors, individuals with disabilities, and low income populations in the Springfield region. A network of transportation providers and human service agencies support these groups, however gaps in service exist due to constrained resources and limitations in fixed-route and demand response services. Given the lack of available funding, coordination can help reduce the strain on resources by effectively applying the assets of multiple agencies to common problems.
The OTO Transit Coordination Plan (TCP) is intended to identify needs and gaps in human service transportation services for seniors and individuals with disabilities in OTO area. The TCP will be used to guide the use of funds from the Section 5310 Enhanced Mobility for Seniors and Individuals with Disabilities Program and fulfills the federal requirements of a Human Services Transportation Plan (HSTP). The TCP is being developed by the OTO's Local Coordinating Board for Transit.

Information About the Transit Coordination Plan
The Transit Coordination Plan contains five key elements regarding transportation in the Ozarks. It contains demographic information about area seniors and individuals with disabilities and information about local transportation providers. The TCP will also have a needs assessment and have identified strategies for addressing those needs. This survey will provide important information for the TCP's need assessment. Finally, the document will outline an implementation strategy improving transportation opportunities for seniors and individuals with disabilities.
Review the Existing TCP
The 2017 version of the TCP is available at https://media.ozarkstransportation.org/documents/Transit-Coordination-Plan-2017.pdf.
Participate in the Planning Process!
The OTO's Local Coordinating Board for Transit is expected to work on the development of the Transit Coordination Plan through May 12, 2022. Once the final draft of the TCP is developed, we expect it to be presented to the OTO's Board of Directors on July 21, 2022. The public is welcome to attend LCBT meetings and participate in the planning process. Expected meeting dates are shown to the right.