Highway MM Corridor RAISE Grant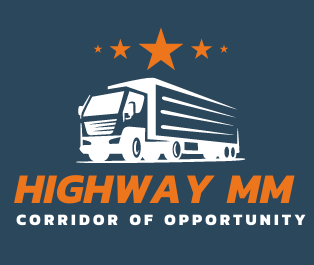 The OTO has resubmitted the grant application for 2023 RAISE funding.
2023 RAISE Grant Application:
2022 RAISE Grant Application:
What is an RAISE Grant:
The OTO in partnership with the City of Republic and MoDOT applied for a RAISE Grant. RAISE stands for Rebuilding American Infrastructure with Sustainability and Equity. Every year the US DOT issues a call for project applications for possible funding through the RAISE discretionary grant program. This is not guaranteed funding. It is a competitive grant based on selection criteria. Curious on what it is? You can find more information here: RAISE Grant Program.
Proposed Project/Description:

The OTO is partnering with MoDOT and the City of Republic to reapply for a 2023 RAISE Discretionary Grant. The goal of the application is to obtain funding to fix capacity and safety issues on Highway MM between I-44 and US 60. It involves the realignment (new roadway) of the Highway MM Corridor, closing of two railroad at-grade crossings, adding ADA sidewalk and trail along the new alignment, as well as additional capacity and turn lanes to the corridor. State Highway MM is a planned primary arterial thoroughfare that connects Interstate 44 to multiple other major highways including US Highway 60. State Highway MM also serves as a primary route to the Springfield-Branson National Airport as well as the Wilson's Creek National Battlefield. Because of its unique logistical advantages, the project corridor has experienced rapid and sustained economic development that continues to generate traffic, especially freight traffic along the corridor. The project is to address existing and future concerns due to growing traffic volumes within the Highway MM Corridor.
Widening and Improving the Roadway. The core of the project is to widen Highway MM between I-44 and US 60. This segment is currently one lane in each direction (northbound and southbound). The road will be be widened to five lanes.

Safety. There are two railroad at grade crossings that are proposed for closure as part of the project. The proposed closure locations are below:

Route M and Farm Road 168, about 600 ft. north of US 60
E Haile Street and E Orr Street, near Brookline Fire Station No. 1
The realignment of Route MM will include a railroad overpass over the BNSF railroad to eliminate all referenced crossings north of US 60.

Pedestrian/Bicycle Improvements. The project includes proposed ADA sidewalks along the corridor. Part of the RAISE grant ask is for a bicycle and pedestrian trail along one side of US 60 to Farm Road 160.

Project Boundaries:
Proposed Project Improvement Map found below: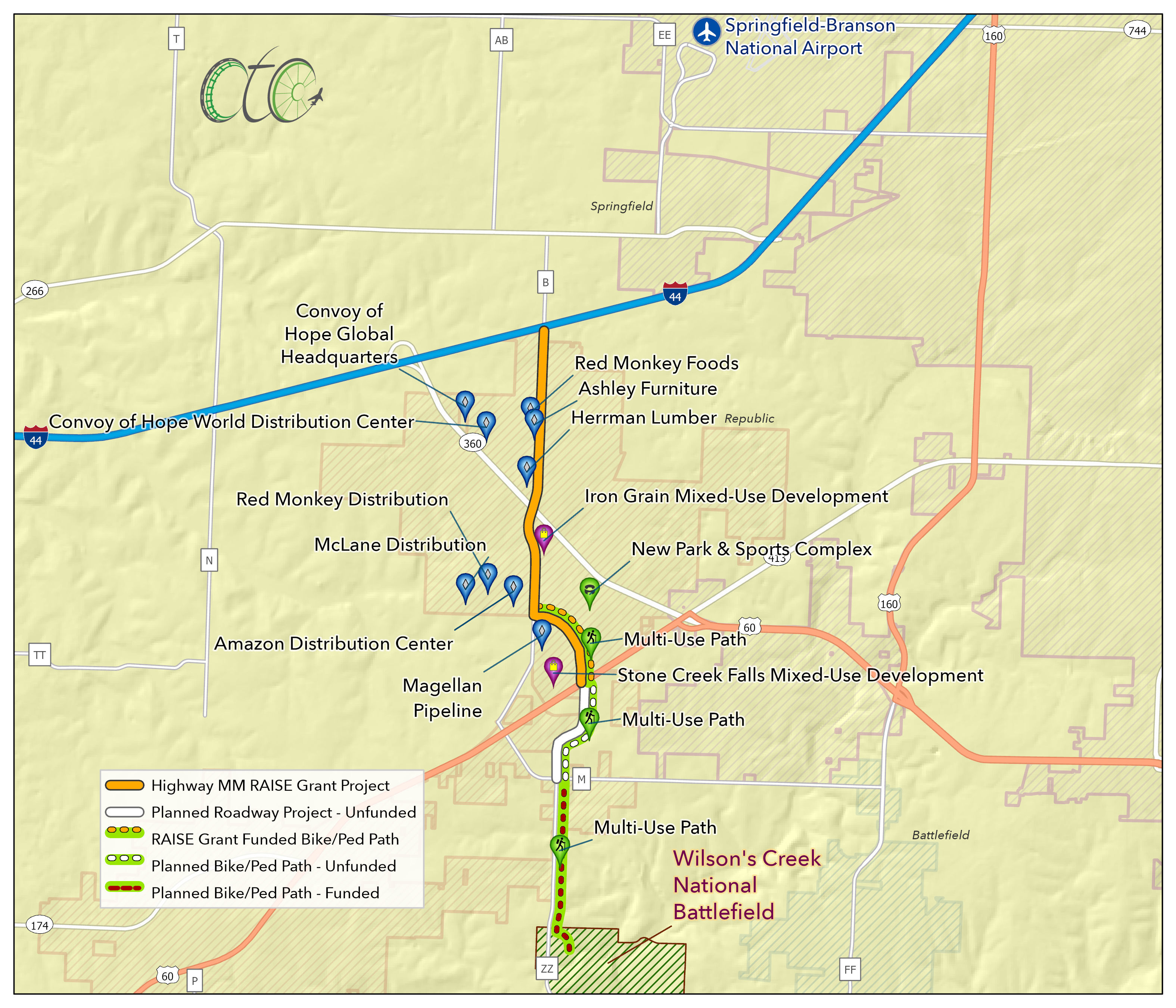 This application focuses on improvements to Highway MM. Phase I is broken into three project segments.
Route MM from I-44 and north of MO 360 "James River Freeway"

Widening to five lanes
Estimated Total Cost $14.08 million
Cost share project with the City of Republic
Construction scheduled for FY 2024
Route MM from MO 360 "James River Freeway" to Farm Road 160

Widening to five lanes
Intersection improvements
Estimated Construction Cost: $20.04 million (unfunded)
Route MM from Farm Road 160 to US 60 (Realignment)
Roundabout on Route MM (Brookline Avenue) at Farm Road 160
Build bridge over BNSF Railroad south of Haile Street
Remove through access of U.S. Route 60 intersection at Commercial Avenue/Farm Road 103
Build intersection connecting new Route MM with Route 60 west of Route 60 intersection at Commercial Avenue/Farm Road 103
Close BNSF Railroad crossings at Route MM and Farm Road 168 and East Haile Street/Orr Street
Possible pedestrian/bike trail between Route MM Farm Road 160 and Route 60
Estimated Total Road cost $30.68 million
Estimated Trail Construction Cost: $855 thousand (unfunded)
More information about the realignment of Highway MM and a proposed section to the south of US 60 can be found on MoDOT's website here MoDOT MM/ZZ Corridor Study.
Application Sponsors:

This grant application is funded by:
Ozarks Transportation Organization and US DOT
Proposed Highway MM Improvements funded by MoDOT, City of Republic, and US DOT.
Proposed Improvements Cost:
The overall proposed project is approximately $66.503 million. The RAISE Grant application is requesting $25 million of the $66.503 million project in discretionary grant funding.
Proposed Schedule: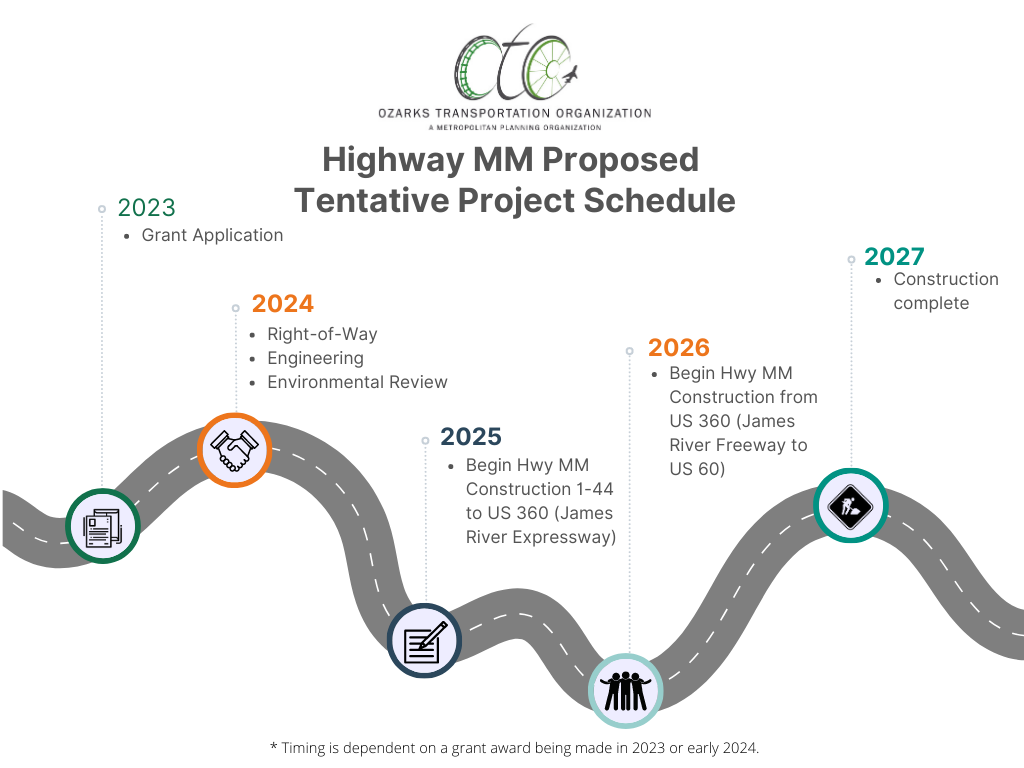 If you have any comments you wish to share with the project team, please use our online comment card.