City of Ozark Awarded ARPA Funds to Support Chadwick Flyer Trail Expansion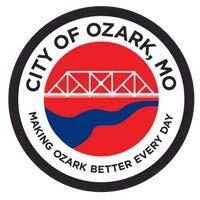 205 N. 1st Street | 417-581-2407 | Ozarkmissouri.com
April 14, 2023 - FOR IMMEDIATE RELEASE
The City of Ozark, Missouri is pleased to announce it has been selected to receive $1.179 million in American Rescue Plan Act (ARPA) funds for local tourism projects from The Missouri Department of Economic Development as part of Missouri's Local Tourism Asset Development program.
Ozark will use the awarded funds for the expansion of the Chadwick Flyer Trail to include a pedestrian overpass across Highway 65, allowing bicyclists and walkers to safely travel the eventual 12-mile trail between Ozark and neighboring Springfield. As of now, there is no safe route over Highway 65, leaving the trail segmented. The finished trail and overpass will connect Ozark's Finley Farms and Downtown Square to Springfield's own downtown district.
The $1.179 million will go toward the $3.75 million total cost for this project.
"The Chadwick Flyer Trail is the fulfillment of a regional vision established with the Trail Investment Study in 2017. It's exciting to see the region using partnerships to invest in an asset that will attract visitors to our region as we seek to expand our trail network as a destination and way to display our outdoor amenities and history that make the Ozarks a great place to call home. We are excited to be able to add another piece of this trail to our expanding network," said Sara Fields, executive director of Ozarks Transportation Organization.
City, county, and regional collaboration made the award possible.
"On behalf of the City of Ozark, we would like to thank Governor Parson and the Missouri Department of Economic Development for the opportunity to pursue these funds. We also thank Ozark Greenways, the Ozarks Transportation Organization, the Christian County Commission, Show Me Christian County, and the Springfield Regional Convention and Visitors Bureau for their work to make this application successful," said Steve Childers, Ozark City Administrator.
"We're beyond thrilled that this trail will connect Ozark and Springfield," said Kristen Haseltine, president & CEO of Show Me Christian County. "While this overpass will be built in Ozark, the Chadwick Flyer Trail will be a huge asset for the county, contributing to our already robust lineup of outdoor recreation opportunities and assets."
The City of Ozark is one of 26 statewide recipients for this award supporting tourism projects, according to the Department of Economic Development.
Launched in October 2022, the Local Tourism Asset Development Grant Program awarded competitive grants to applicants affected by the COVID-19 pandemic, such as destination marketing organizations (DMOs), convention and visitors' bureaus (CVBs), municipalities, nonprofit organizations, and chambers of commerce to fund a variety of projects, such as welcome and recreation centers, property renovations, museum expansions, park improvements, indoor and outdoor attraction development, and more.
For questions, please contact Samantha Payne, Deputy City of Ozark City Administrator at 417-496-0228 or at spayne@ozarkmissouri.org.